In February, Robert F. Smith joined the students of Eagle Academies in a virtual town hall. The students were able to ask questions and in turn received a great deal of information and life lessons from Smith. At the end of the session, Smith announced an essay contest open to Eagle students. To enter, students were asked to watch all available episodes of the award-winning video podcast Black History in Two Minutes, and to write a response essay on what they learned from the series. The selected winning essayists would be awarded $100 Amazon.com gift cards, with prizes supplied by the Fund II Foundation, of which Smith is founding director and President. At long last, the winners were announced and their essays were shared.
Fund II Foundation and Robert F. Smith have supported the work by Eagle Academy schools, which operate public schools in at-risk neighborhoods in all five boroughs in New York City and the city of Newark, NJ. Eagle scholars are all lottery-selected young men who live in these neighborhoods, and who are able to show up as role models in their communities and who graduate high school and attend college at much higher rates than the national average for young Black men. 
Essay Winners Penned Uplifting Essays
On April 16, the winners of the essay contest were announced with another virtual town hall, this time hosted by co-founder of the Ida B. Wells Society for Investigative Reporting and renowned racial justice journalist Nikole Hannah-Jones.
Winners were announced in First, Second, and Third Prize categories and included students as young as 11 years old. Initially, the plan was to include prizes for the top 10 essays, but because of the high quality of the essays entered, this pool of winners was expanded. There were 10 First Place winners, 10 Second Place winners, and 26 Third Place winners.
"The reality is, you don't reap rewards in life unless you put in and take advantage of opportunities," noted Rashad Meade, Principal of Eagle Academy for Young Men of Ocean Hill in Brooklyn, NY. "This is a testament to the work you guys put in, but also [we] want to highlight that when you get opportunities, gentlemen, you can't waste them…You never know what an essay can do in terms of opening up doors for the rest of your life."
"I want to congratulate those who put in that effort and got it done," said Meade during the town hall. "You're going to be rewarded… there's well over $22,000 in awards handed out to Eagle scholars who got the essay done."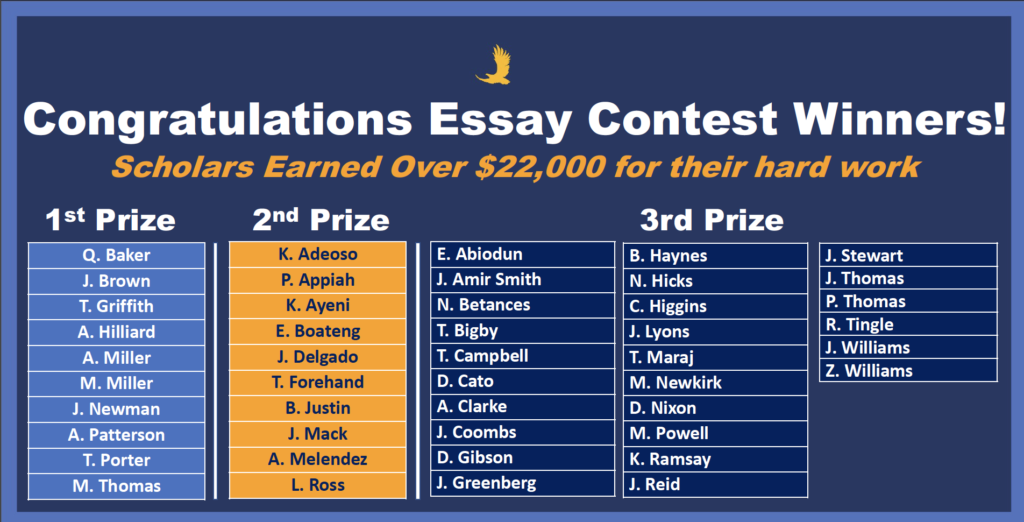 Read Inspiring Essay Contest Excerpts
Below are excerpts from just a few of the winning essays. These essays show the hard work and introspective writing abilities by the young men of Eagle Academy.
A. Miller, 11 years old: "The Series to me, means that Black Americans were strong, powerful and committed to excellence. They made it through slavery and all the laws that took away their rights. Black Americans were determined to do what they had to do to survive. Many fought for equal rights for themselves and for me….I learned a lot from this series and it will help me to live a good life. The series taught me to think about others."
A. Patterson, 18 years old: "The mass imprisonment of the youth, specifically, Black and Hispanic youth have propelled and contributed to the deep-rooted system of institutionalized racism in America. This is one of the reasons I am thankful to attend a school like Eagle Academy where my culture and values are celebrated and where Black excellence is at the root of the curriculum. My hope is to become a successful lawyer in the future and work towards moving justice forward in the education and justice system, by creating policy reforms that positively impact my community."
M. Miller, 15 years old: "In 2021 Black people still face these injustices. It's hard to get ahead if someone is constantly creating new ways to keep us behind. From this series, I learned in order for me to move forward I need to understand my history. Understanding my history makes me want to become the person in a position of power. In the future, I would like to own TV and radio stations. When I am put in this position It will allow me to shift the dynamics of uplifting my people and create a positive image of the Blackman and Black families."
About Black History in Two Minutes (or so)
Students were asked to watch the video podcast episodes of Black History in Two Minutes, which each dive into a notable African American, historical event or cultural touchstone and explains the topic's significance in just two minutes. The project was the brainchild of Robert F. Smith who is also an Executive Producer. The series is narrated and also produced by Harvard professor Henry Louis Gates, Jr., executive producer and Emmy and Peabody-Award winning filmmaker Dyllan McGee and executive producer Deon Taylor, who is also a film director and founder of Hidden Empire Film Group, which produces BeWoke.vote. Smith is also an executive producer at Hidden Empire Film Group.
Learn more about Eagle Academies in the 2020 documentary The Infamous Future. You can also watch Robert F. Smith's Town Hall with Eagle Academy on YouTube, or read a recap of the event.