Hope Smith is transforming the beauty and wellness industry. She is an entrepreneur, a mother and an advocate for other women. Hope holistically brings her passion for health, education and philanthropic giving to all aspects of her personal and professional life. Learn about Hope Smith's life and career as the Founder and CEO of MUTHA™.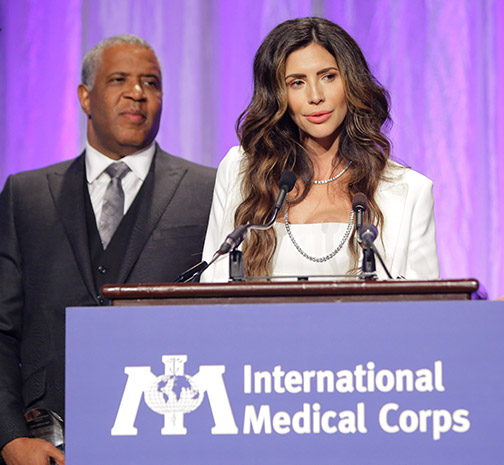 About Hope Smith, the Early Years
Hope Dworaczyk Smith was born in Texas, in 1984. She hails from a small beach-side town southwest of Houston. Her close supportive relationship with her mother and grandmother empowered Hope to set ambitious goals and to follow her childhood dream of a career in the fashion industry. She took an accelerated program to graduate high school at 16 when New York City's Wilhelmina Models discovered her through her win at the Miss Teen Texas America contest. Hope went on to model for top international designers and couturiers, such as Balenciaga, Patek Philippe and Versace. Hope then branched out to television, becoming a host and producer on Inside Fashion (Canada) and then as a contestant on "Celebrity Apprentice."
Taking Holistic Wellness into High End Skincare
While modeling, Hope became increasingly aware of the contents of her skincare products, specifically researching the complex chemical-laden ingredients. Her research led her to become a licensed esthetician, and at 20 years-old, she launched a spa in Houston, which she later sold. These first ventures as an independent small-business owner were formative. She learned first-hand the process of how best to take a vision to reality. She called on these experiences in 2019 when Hope founded MUTHA™, the luxury skincare brand she leads as CEO.
Hope's inspiration for MUTHA™ was her family. When she was pregnant with her first child, Hendrix, she set out to protect him while still caring for herself. She combined clean, natural ingredients into a rich body butter to sooth her skin and nourish her body and her baby. Now Hope is a mom of four. And she's on a mission to unlock the potential for everyone to nurture themselves. Feeling confident and strong is the pathway to career and interpersonal success. And that is what Hope and MUTHA™ are all about.
Hope and MUTHA™ Gain Industry Recognition
Hope started MUTHA™ in her kitchen as a personal rejection of the beauty industry's use of unnaturally sourced ingredients in many high-end skincare products. And now, her niche brand is getting recognized. Marie Claire named MUTHA™ Body Butter a 2020 Beauty Game Changer. The luscious body cream has picked up awards from Refinery29 (Beauty Innovator Awards 2020 – Best Body Moisturizers), NewBeauty (Body Treatments + Hydrators – Best Body Butter 2021), Glamour (Best in Clean Beauty 2021 – Best Brightening Serum 2021), Marie Claire (Prix d'Excellence 2021 – Up All Night Eye Cream) and a host of other industry notices.
Additionally, following the launch of MUTHA™, Forbes named Hope in its 2020 Inspiring Female Founders in the Beauty Industry list, and she made the WWD (Women's Wear Daily) Beauty's Emerging Brand Founders list that same year.
The Smith Family Philanthropic Legacy
Even as MUTHA™ continues to expand its product line and its presence in the beauty and wellness industries, the company is maintaining its philanthropic partnerships. Hope is a member of the International Medical Corps (IMC) Leadership Council. And MUTHA™ donates 5% of online sales to the IMC, specifically to help reduce maternal and infant mortality rates in some of the most impacted areas across the globe. MUTHA™ also gives 100% of the proceeds of their F* Racism candle to The Conscious Kid, a nonprofit group battling racism through education. Additionally, Hope is a member of BeautyUnited, a coalition of brand owners and celebrities who have made an impact supporting medical teams and healthcare workers.
Hope and Robert F. Smith together support organizations including the IMC, Unlikely Heroes, The Bail Project and Together We Rise. With Together We Rise, the couple has made an active difference in the lives of college-age youths formerly in the foster care system since 2015. The Smiths take part in the nonprofit organization's Family Fellowship Program, hosting and mentoring foster children who need support and guidance as they enter college and begin to envision career pathways.